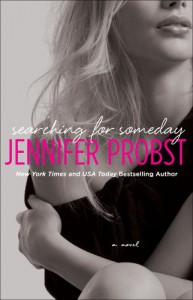 Searching for Someday by Jennifer Probst
My rating: 4 of 5 stars

3.5 stars rounding to 4

Kate has given up on love… which wouldn't be so weird if she wasn't a matchmaker.

Kate and her two best friends have launched their own matchmaking service called Kinnection. Focusing on all areas of making connections for the people who walk through their doors.

Kate has always been able to sense romantic connections and it's helped make the business a success, but little did Kate know that signing Jane Montgomery would change her life.

Divorce lawyer, Slade Montgomery has seen what the end of relationships can do to people and he's seen his sister hit rock bottom because of a relationship and when she tells Slade she's ready to move on in her life and make her own way he freaks. Then he finds out that she's signed up for some crazy matchmaking company. Convinced he knows what's best for her he storms through the doors demanding they refund Jane's money and never contact her again. He wasn't expecting to have to match wits with Kate.

When he convinces Kate the only way he'll let Jane do this is if she can find someone for him he is sure he's won. Kate is sure she's going to win this. She wasn't expecting to have to fight her feelings at every turn.

I have to admit, this is my first Jennifer Probst book, and I wasn't at all disappointed. I really found myself hooked on her characters. Kate was someone I could identify with and she was smart and determined. And she didn't take any shit from Slade.

Slade… this man. He's jaded… he's seen the horror that a crumbling relationship can cause and so he isn't looking for anything serious. And he's not shy. The things that came out of his mouth…

" If I cross this room, there's no more running away. I'm going to fuck you until there's nothing left. I won't be gentle. Think carefully."



And the chemistry between Kate and Slade is explosive and really well done. I loved the UST in this one because the build up to them finally giving in was done perfectly. I loved the determination that Slade had as well. He knew what he wanted and despite her continually pushing him into the arms of other women, he never lost sight of it.

A few things… word choices… I'm picky. You guys know this about me. I am not a fan of the word channel, and there are way too many instances of it.




I liked the start of this series, and I will definitely be checking out any others in this series that arrive. I have a feeling we'll get a chance to see the other ladies who run Kinnection in the future.

If you're looking for a light quick romance with snarky characters, wonderful banter and some hot sexy times this would be a great book to pick up.

Thank you to Simon & Schuster and Netgalley for an advance copy in exchange for an honest review.

This review can be found on my blog, Fic Fare:




View all my reviews